HAUS OF BEATS 122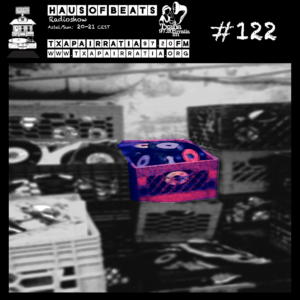 HAUS OF BEATS #122
Quartet Series labelean argitaratuko dan Vernel-en lanak hasi du gaur, Tupido Velo-ren azkena Cluster Node etxearen bitartez dator, Dubkasm-ek Rastrumentals izeneko diskoa dakar. Beste behin Girls Of The Internet, oraingoan Drab Queen disketxean. Apollo beste behin, honako hau Synkro eta Arovane-ren elkarlanarekin, Luca Vera The Dub labelarekin dator eta gaurkoz azkena X-Coast eta aurreko astean ere hemen izan ziren Hot Haus-en esku.
Erdiko minutuetan, Pletnev, Joris Biesmans, Marenn Sukie, Sissel Wincent eta BØRT.
Atzera Begira, beste behin Kruder & Dorfmeister bikotea, Thunderball eta gaukoari agur esateko, Elecktroids.
Tracklist:
Verner – L'inizio (Quartet Series) out 29 jun
Tupido Velo – Oblivion (Cluster Node) out 28 jun
Dubkasm – Eco do Jongo feat. Ras B (Rastrumentals) out 29 jun
Girls Of The Internet – Remember My Name (Radio Edit) (Drab Queen) out 28 jun
Synkro & Arovane – Rhizome (Apollo Recordings) out 29 jun
Luca Vera – Outro (The Dub) out jun 2018
X-Coast – XTC IV (Hot Haus recs) out jun 2018
Pletnev – Daywalker (Eva Geist & Mehmet Aslam Remix) (Fleeting Wax, 2018)
Joris Biesmans – Connecting The Dots (TVe, 2018)
Marenn Sukie – Simple Excuses (Apollo Recordings, 2018)
Sissel Wincent – Ponytails (Peder Mannerfelt Produktion, 2018)
BØRT – Acidic (MEAT Recordings, 2018)
Kruder & Dorfmeister – Peace Orchestra – Domination (G-Stone Recordings, 1999)
Thunderball – Pop The Trunk (Eighteenth Street Lounge, 2000)
Elecktroids – Perpetual Motion (Warp Records, 1995)
Podcast: Play in new window | Download