HAUS OF BEATS 90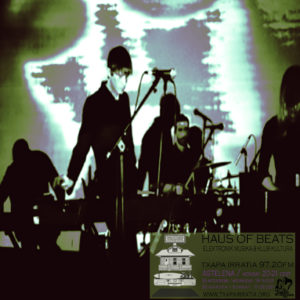 HAUS OF BEATS #90
BLOW labela, bere Blow & Zavor-en lan berriarekin hasi dugu gaur. The Analogue Cops-ek Hypercolour-entzat sinatu duena hurrengo, ondoren, STL eta Dark Matters zigilua, dj Khalab eta Beating Heart Project-en 4. eta azken lana ere hemen izan dugu. Gernikako Forbidden Colours-eko lagunek Eduardo De La Calle-ren EP ekarri digute eta Brame & Hamo, beraiek gidatzen duten izen bereko labela. Gaurko azkena, Novamute label aitzindariak Nicolas Bougaïeff-en azkena aurkeztu digute.
Erdiko minutuetan, Bleep Bloop, NHK yx Koyxen, Armonics, Turbojazz, klasiko baten berrikusketarekin eta Puma & The Dolphin, ICI labeleko rekopilatorio berriarekin.
Atzera begira, Nitzer Ebb, Scorn eta El Sueño de Hyparco, azken hau Bartzelonako Discos Paradiso diska dendakoek sortu berri duten Urpa i Musell labelaren bitartez.
Tracklist:
Blow & zavor – Assolo 002 (Claudio Fabrianesi Remix) (BLOW) out 10 nov

The Analogue Cops – Marieu – Hit The Power (Hypercolour) out 10 nov

STL – Smooth Selector (Dark Matters) out 30 oct

Dj Khalab – Mostra (Beating Heart Project) out 27 oct

Eduardo De La Calle – Paradox Of Choice (Forbidden Colours) out 27 oct

Brame & Hamo – Clarence (Smooth Mix) (Brame & Hamo) out 30 oct

Nicolas Bougaïeff – Truthful Hyperbole (Novamute) out 27 oct

Bleep Bloop – Angry (Liquid Amber, 2017)

NHK yx Koyxen – Meeting (DFA, 2017)

Armonics – Look Alive (Modern Magic, 2017)

Turbojazz – Strings Of Life (BBE, Local Talk, 2017)

Puma & The Dolphin – Fosils (ICI, 2017)

Nitzer Ebb – Lightning Man (The Industry vs The Ebb Mix) (Mute, 1990)

Scorn – Light Trap (Scorn Mix) (Scorn Recordings, 1995)

El Sueño De Hyparco – Rhodas (Hyades Arts, 19909
Podcast: Play in new window | Download