HAUS OF BEATS 91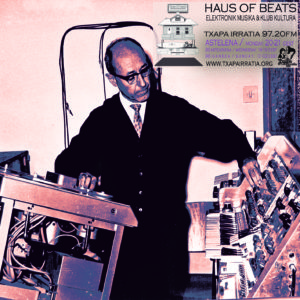 HAUS OF BEATS #91
Beste behin Apollo-ren lan batekin hasi dugu, Synkro-ren EP berria. Lumiére Noire labelak Chloé-ren albuma kaleratuko du. Orain 2 aste aurreratu genuen Tunnelvisions-en singlea, oraingoan albumarekin datoz, hau ere Atomnation-en eskutik. Rui Da Silva-k bere Kismet Records-en argitaratuko du eta beste hainbeste Denis Sulta-k, Sulta Selects izeneko seriean. Azkenengoa Arkajo da, Aniara Recordings-ekin batu da oraingoan.
Erdiko tartean, lan gehienak kaleratu berriak, Rohad, The Astral Walkers, St. Savor eta Azkoitiko Abaunz ekoizlearen azken EP-a, tarteari amaiera emateko dub doinuak Hey-O-Hansen-en eskutik.
Atzera Begira, 2 berrargitaralpen berri, Ingleton Falls, Isle Of Jura-ren eskutik kaleratuko da eta Awesome Tapes From Africa-k Proffesor Rhythm-en lan zahar bat berreskuratuko digute.Gaurkoz amaiera Cosmic Hoffmann-en ardura izan da.
Tracklist:
      1. Synkro – Vanishing Point (Apollo) out 10 nov
Chloé – Androgyne feat. Alain Chamfort (Lumiére Noire) out 27 oct

Tunnelvisions – Bayuda (Atomnation) out 3 nov

Rui Da Silva – Requiem (Kismet Records) out 2017 tbc

DSC – Aunt Wendy's Wedding In Wales (Holding Hands) out 10 nov

Denis Sulta – Our World With A Boy On Its Shoulders (Sulta Selects) out 31 oct

Arkajo – Fathomless Music (Aniara Recordings) out 14 nov

Rodhad – Unleash (Dystopian, 2017)

The Astral Walkers – Passage (Astral Stroll) (Deepblak, 2017)

St. Savor – Savor's Dream (Moscow Groove Institute Remix) (Fingers Crossed, 2017)

Abaunz – Abruptum (Not On Label, 2017)

Hey-O-Hansen – Extinguisher (Mix by Karl Marx Stadt) (heyrec. , 2006)

Ingleton Falls – She Felt Love (Not On Label, 1993)

Proffesor Rhythm – Leave Me Alone (Unknown, 1995)

Cosmic Hoffmann – Space Disco (1978 Original) (EMI, 1982)
Podcast: Play in new window | Download