HAUS OF BEATS 58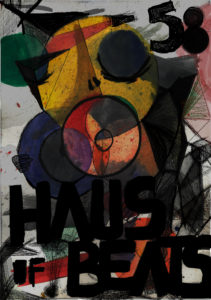 HAUS OF BEATS #58
Azal Diseinua / Cover Design: Julieta Metralleta
Joan zen astean zendu zan William Onyeabor omendu dugu gaurko programaren hasieran, ondoren beti bezela aurrerapenekin jarraitu dugu. Apparel Tronic-en estreineko lana, Schilling-en album berria. Demian Licht-ek bere MotusRecordings kaleratuko du eta Otik-ek DEXT Recordings-ekin. Keysound Recordings eta Blackdown ere izan dira, Rimbaudian-ek ere Ten Thousand Yen lan polita esku artean izan dugu eta amaitzeko Terr-ek Hotflush Recordings-ekin plazaratuko duen EP-a.
Programa erdi berezia izan da gaurkoa, gure lagun Ana Jarana izan da gaurko musikaren arduraduna. Elektroaren inguruan izan gara amaierarate, Afrika Bambaataa, Miss Kittin & The Hacker, AUX88, UMWELT, I-F, Egyptian Lover, Charlie eta amaitzeko Sieg über die Sonne.
Tracklist.
01. [RIP] William Onyeabur – Fantastic Man (Wilfilms Records, 1978)
02. Schilling – Black Lighter (Apparel Tronic) out 6 feb
03. Demian Licht – Persecutionem (Motus Records) out 28 feb
04. Otik – Rasputin (DEXT Recordings) out 3 feb
05. Blackdown – Keysound Sessions Anthem (8bar mix) (Keysound Recordings) out 3 feb
06. Rimbaudian – She Taught Me How To Love (Ten Thousand Yen) out 3 feb
07. TERR – Don't Look Around (Hotflush Recordings) out 27 Jan
08. Afrika Bambaataa – Planet Rock (Tommy Boy, 1982)
09. Miss Kittin And The Hacker – 1982 (Gigolo Records, 1998)
10. Aux 88 – Electro Slaves (Direct Beat, 2010)
11. Umwelt – Days of dissent (Boidae, 2016)
12. I-F – Playstation #2 (Disko B, 1998)
13. Egyptian Lover – Sexy Style (Greatest Hits Dub Mix) (Egyptian Empire, 1989)
14. Charlie – Spacer Woman (Mr. Disc Organization, 1983)
15. Sieg Uber Die Sonne – Rough (Multicolor Recordings, 2001)
Podcast: Play in new window | Download