HAUS OF BEATS 82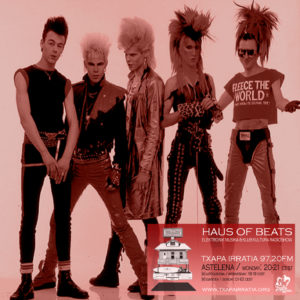 HAUS OF BEATS #82
Guk ere oporrak hartuko ditugu abuztuan, baina aurretik azken irratsaioa egin dugu. Beti bezela, aurrerapenak izan ditugu lehen programa erdian. Hasteko, Dj Bwin eta Hundert labela izan dira, Casio Royalek, Unknown To The Unknown zigiluan izango da, Brotherhood Sound System-eko jendeak Silas & Snare-ren lana ekarri dute. Drum n Bass doinuak Fracture eta Astrophonica-ren lan hontan, Outer Zone labelak Solid Blake aurkeztu digu. Amaitzeko Steve Murphy eta Hot Haus Records, eta Tuff Wheelz-ek Arkhive-rentzat sinatu duen EP-arekin.
Erdiko tartean, lan berriak gehienak, Bézier, Savage Hymn, Look Like eta Identified Patient. Prins Thomas-en abesti bat ere sartu dugu.
Atzera Begira, Forgemasters, Porter Ricks eta Fellowship.
Tracklist
Dj Bwin – Herodot (Hundert) out 4 aug

Casio Royale – Organa (Unknown To The Unknown) out 2017 tbc

Silas & Snare – Memories (Brotherhood Sound System) out jul 2017

Fracture – On My Mind (Astrophonica) out 4 aug

Solid Blake – Yagharek (Outer Zone) out jul 2017

Steve Murphy – Man In A Box feat. Dj Octopus ( Hot Haus Records) out 2017 tbc

Tuff Wheelz – Berenice's Beat (Arkhive) out 11 aug

Bézier – Primes (Dark Entries, 2017)

Savage Hymn – Animals V2 (Dark Entries, 2017)

Look Like – Delta (Akoya Circles, 2017)

Identified Patient – Het Infuus (Pinkman, 2017)

Prins Thomas – E (Smallrown Supersound, 2016)

Forgemasters – Track With No Name (Warp, 1989)

Porter Ricks – Explore (Mille Plateaux, 1997)

Fellowship – Divided Soul (Creative Source, 2000)
Podcast: Play in new window | Download