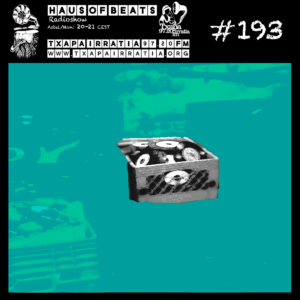 HAUS OF BEATS 193 Aste hontako aurrerapenetan… / This week promos… Omar Aloulou, Pablo Nouvelle, Toby Tobias, Garnica, Rico Casazza, Borai & Denham Audio, Johnny Island eta Noize Maker-en hurrengo lanak… …eta askoz gehiago. / …and many more. Tracklist:
Omar Aloulou – Olenine (Shouka) out 28 feb
Pablo Nouvelle – Ugone Ngala (Beating Heart) out 7 feb
Toby Tobias – Deo Mort (Futureboogie) out 21 feb
Garnica – The Spirit (Self Released) out soon
Rico Casazza – Purplewave (No Moon Remix) (Dionysian Mysteries) out 7 feb
Borai & Denham Audio – Euphoria (E-Beamz) out 21 feb
Johnny Island – Structure Five (Odd Even) out 14 feb
Noize Maker – Components (Amour Noir Remix) (I-Traxx Recordings) out 14 feb
Dj Poolboi – Lilacs (Unbelievably Spectacular, 2019)
Change Request feat. Lailah Reich – Shatter Proof (Fresh Meat, 2019)
Russ Gabriel – Planet Discovery (Reshaped & Rearranged by Future Beat Alliance) (Exalt Records, 2019)
Generali Minerali – Lost (RFR Records, 2019)
Andrew Tytherleigh – Dream Heavy (Repap, 1999)
Metamatics – Vanishing Point (P-Vine Records, 1997)
Faze Action – Plans & Designs (Nuphonic, 1997)
The post
HAUS OF BEATS 193
appeared first on
Arrosa
.
Podcast: Play in new window | Download