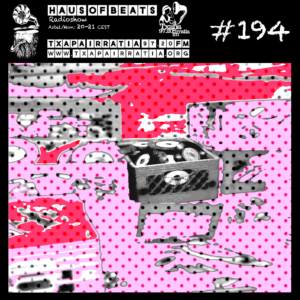 HAUS OF BEATS 194 Aste hontako aurrerapenetan… / This week promos… Kreggo, Michael Kamm, Lukas Lyrestam, James Bangura, Lewis Beck, Paul Donton & Rob Pearson, Larry eta Dj Haus-en hurrengo lanak… …eta askoz gehiago. / …and many more. Tracklist:
Kreggo – New Age (Furthur Electronix) out feb 2020
Michael Kamm – KS M06 MK130823 (Duat Records) out 10 feb
Lukas Lyrestam – When 2 Bodies Become 1 (Skylax Records) out 14 feb
James Bangura – Broken Mind (Vanity Press) out 14 feb
Lewis Beck – Talk (Audiophile Deep) out 16 feb
Paul Donton & Rob Pearson – Inspired Look (Woodwork Recordings) out 16 feb
Larry – Kauz (Super Hexagon Records) out 2 mar
Dj Haus – Let My Brain Go (Len Faki Remix) (Unknown To The Unknown) out 2 mar
Tom Noble – Flashlight (Rush Hour, 2020)
Tokimonsta – Fried For The Night (feat. EarthGang) (Young Art Records, 2020)
Marlon Hoffstadt & Natureboy Gold – Pitfield St (Rawax, 2019)
Etienne Jaumet – Midnight Man (Gilb'R Midnight Version) (Versatile, 2015)
Tortoise – Ry Cooder (Thrill Jockey, 1994)
Sascha Funke – So Wie Du (Bpitch Control, 2000)
Radioactive Man – The Mezz (Fuel, 1999)
The post
HAUS OF BEATS 194
appeared first on
Arrosa
.
Podcast: Play in new window | Download