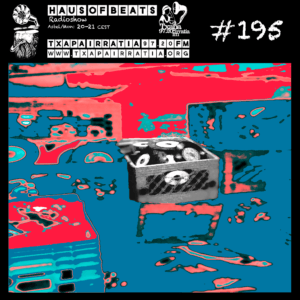 HAUS OF BEATS 195 Gure omenaldi txikia egin diogu, gaur utzi gaituen Andrew Weatherall-i.. Aste hontako aurrerapenetan… / This week promos… Change Request, J-Shadow, Running Hot, Mowgan, Catz'n'Dog, Alvaro Cabana eta Bawrut, Shcuro, Hannibal Rex eta Benjamin Mull-en hurrengo lanak… …eta askoz gehiago. / …and many more. Tracklist:
[RIP] Andrew Weatherall – Feathers (Rotters Golf Club, 2006)
Change Request – Lavish Lustfulness (Campo Alegre Productions) out 24 feb
J-Shadow – Contact (Beat Machine Records) out 12 mar
Running Hot – Jai Maa Kali (Running Hot Bollywood Big Room Edit) (Fauve Records) out 28 feb
Mowgan feat. Solo Sanou – Noa (Mow Records) out 21 feb
Catz'n'Dogz, Alvaro Cabana and Bawrut – No Me Gusta (Javi Redondo Remix) (Rotten City Files) out 21 feb
Shcuro – Left And Dawn (Dark Entries) out 21 feb
Hannibal Rex – Responsible Liability (Kikuji Records) ouy 28 feb
Benjamin Mull – Tuomari (Cari Lekebusch Remix) (H-Productions) out 24 feb
Cosmo Vitelli – Die Alraune feat. Sebastian Lee Philipp (Malka Tuti, 2019)
R.P. – Vox Automaton (Frustrated Funk, 2007)
Dewemer – Long Low Edmund (Nous'klaer Audio, 2019)
Costas – 002 (Costas, 2020)
Flanger – Full On Scientist (Ntone, 1999)
Otaku – Day Out (Soma Quality Recordings, 1996)
Black Jazz Chronicles – Hold On (Nuphonic, 1997)
The post
HAUS OF BEATS 195
appeared first on
Arrosa
.
Podcast: Play in new window | Download