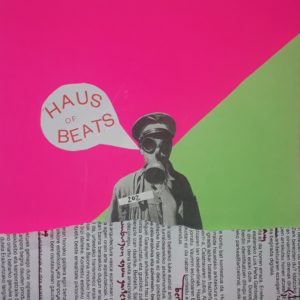 HAUS OF BEATS 202 Artwork: Ander Zangitu Orbea Aste hontako aurrerapenetan… / This week promos… Proceed, Joaquin Cornejo, Toki Fuko, Ben Hauke, Zito Mowa, Foreign Material, Addison Groove, Manganese eta Blixaboy-ren hurrengo lanak… …eta askoz gehiago. / …and many more. Tracklist:
Proceed – Interpersonal (Haus Of Beats Diskak) out soon
Joaquin Cornejo – Komorebi feat. Wabi Sabi (Earthly Measures) out 10 apr
Toki Fuko – Dub Tales (Retouched Mix) (Siena) out 10 apr
Ben Hauke – Installs (Yam Records) out 10 apr
Zito Mowa – Bop Skip Doodle (Stay True Sounds) out 10 apr
Foreign Material – An Infinity Of Sand (Crossing Avenue Mix) (Supercinema) out 10 apr
Addison Groove – Cider Was Stronger Than The Weed (Gutterfunk) out 10 apr
Manganese – A Safe Place To Live (Berlin Bass Collective) out 7 apr
Blixaboy – Air Maidens (Wolf Trap) out 16 apr
Sangam & Pixelord – Process Cold (Hyperboloid Records, 2020)
Avision – Over And Under (Mike Denhert Remix) (Teksupport Records, 2019)
Sinfol – Undisputed (Anagram, 2020)
Omar S – You Want The Best (FXHE, 2020)
The True Underground Sound Of Rome – Goa-Goa (Male Productions, 1991)
Forces Of Nature – Cool Spot (PFM Mix) (Clean Up Records, 1996)
[RIP] Victor Nubla – Danza Uraniana (EGK, 1986)
The post
HAUS OF BEATS 202
appeared first on
Arrosa
.
Podcast: Play in new window | Download