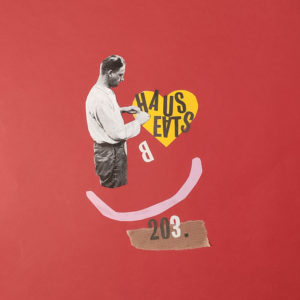 HAUS OF BEATS 203 Artwork: Ander Zangitu Orbea Aste hontako aurrerapenetan… / This week promos… Metro Zee, Sinner DC, Julio Victoria, Sonny, Dan Wild, John Tejada, Circles & Ellipses eta Leloopar-en hurrengo lanak… …eta askoz gehiago. / …and many more. Tracklist:
Metro Zee – Barbd (Ritual Poison) out 17 apr
Sinner DC – When You Walk The Streets Of Your Life (Ai Records) out tbc 2020
Julio Victoria – Separate Ways (Victoria) out 17 apr
Sonny – Liquid Phase (Kris Baha Remix) (Northern Underground Records) out 24 apr
Dan Wild – To The Trees (XDB Remix) (Just Jack Recordings) out 20 apr
John Tejada – Moving 909's (Plaid Remix) (Palette Recordings) out 17 apr
Circles & Ellipses – Opala (Morphology Remix) (ART Records) out 20 apr
Leloopar – Concatenate (Defmain Music) out 22 apr
Alva Noto – A Forest (Noton, 2020)
Alps2 & Harry No – I Could Be Wrong (Selby Soul, 2020)
Chit Chat Sex Band – Shorn (I-Traxx Recordings, 2020)
Limp Wrist – In My Mind (Not On Label, 2017)
Silicone Soul – Chic-O-Laa (H-Foundation mix) (Soma Quality Recordings, 2000)
B.E. – Distant (Soma Quality Recordings, 1999)
Air – Soldissimo (Etienne De Crecy Remix) (Disques Solid, 1996)
The post
HAUS OF BEATS 203
appeared first on
Arrosa
.
Podcast: Play in new window | Download