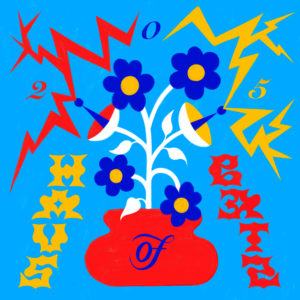 HAUS OF BEATS 205 Artwork: Jabier Rodriguez Aste hontako aurrerapenetan… / This week promos… Niecesandnephews, Hyperactive Leslie, Orsery, Mentrix, Alex Bayly, Mahakala, Cocktail Party Effect eta Locked Groove-ren hurrengo lanak… …eta askoz gehiago. / …and many more. Tracklist:
Niecesandnephews – Out There feat. Lo Gwynn (Not On Label) out 7 may
Hyperactive Leslie – Slow (Crowdspacer Airfono) out 24 apr
Orsery – Behike (Slowciety) out 1 may
Mentrix – Nature (Deadbeat's Internal War Dub) (House Of Strenght) out 6 may
Alex Bayly – Loving Hands You Hide (Traynor Remix) (Traynor Music) out 2020 tbc
Mahakala – Tomahawk (Mahakala) out 1 may
Cocktail Party Effect – PDA (Tectonic Recordings) out 1 may
Locked Groove – Ultra Violence (Locked Groove Records) out 24 apr
Arnaud Rebotini – Minimize Contact Between People (Black Strobe Records, 2020)
96 Back – Cosied By (Hypercolour, 2020)
Ricardo Tobar – After The Movie (Plaid Remix) (Musar, 2020)
Pelacha – Analogic Swing (Redsonja Records, 2012)
Jimi Tenor – Total Devastation (Swag Mix) (Warp, 1999)
Waterlillies – Tempted (Apple Crumble Mix) (Sire / Reprise Records, 1993)
Ron Trent – Seduction (Subwoofer, 1995)
The post
HAUS OF BEATS 205
appeared first on
Arrosa
.
Podcast: Play in new window | Download