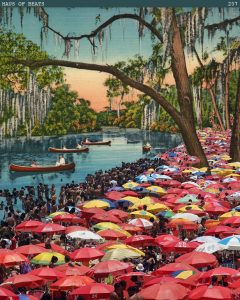 HAUS OF BEATS 207 Artwork: Markel Eguren Florian Schneider-ek aste hontan utzi gaituela eta, omenaldi txikia egin diogu programa hasteko… Aste hontako aurrerapenetan… / This week promos… Jammin, Robots With No Soul, Quaid, Security Dj, Hans Berg, Adryiano, Bulu eta Grindvik & Pfirter-en hurrengo lanak… …eta askoz gehiago. / …and many more. Tracklist:
(R.I.P.) Kraftwerk – Computer Love (EMI, 1981)
Jammin – Funktion (Bingo Bass) out tbc 2020
Robots With No Soul – Enter (Kneaded Pains) out 22 may
Quaid – Mirage (Apron Records) out 14 may
Security Dj – Rampage (Asymmetrical Vocal Revision) (Raw Culture) out 15 may
Hans Berg – Cascade (UFO Station Recordings) out 15 may
Adryiano – U Better Axumbody (Cestraw) out 15 may
Bulu – Pinball (Bulu Sound) out 15 may
Grindvik & Pfirter – Mover (Stockholm LTD) out 11 may
WLDV – The Revive Of Darvulia (Self Released, 2020)
Yamaneko – Shaped Like Kaleidoscopes (Local Action, 2020)
Client_03 – Personality Converter (Astrophonica, 2020)
Arnaud Rebotini – Minimize Contact Between People (The Hacker Remix) (Black Strobe Records, 2020)
Pressure Drop – Unify (Boombastic Records, 1993)
Four Ears – A Hundred Millions Miracles (Compost Records, 1994)
Drexcyia – Hydro Cubes (Rephlex, 1994)
The post
HAUS OF BEATS 207
appeared first on
Arrosa
.
Podcast: Play in new window | Download