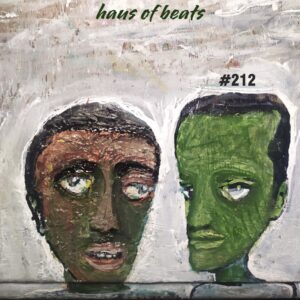 HAUS OF BEATS 212 Artwork: Zilo Aste hontako promoetan…/ This weeks promos… Soviet Space Research Institute, No More, Hamdi Ryder, Kristian K, Horsemen, Andreas Rund, Cellini eta SOSANDLOW-ren hurrengo lanak… …eta askoz gehiago. / …and many more. Tracklist:
Soviet Space Research Institute – Cold Summer (Line Explorations) out 26 jun
No More – Days Of Mercy (I-Robots Reconstruction) (Opilec) out 22 jun
Hamdi Ryver feat. Amyne – T.U.G.S. (Eddisco) out 22 jun
Kristian K – Part A10 (Wolf Trap) out 19 jun
Horsemen – Lucid Drinks (Berlin Bass Collective) out 15 jun
Andreas Rund – Due Absence (Espacio Cielo) out jul 2020
Cellini – What's After High (Cycle Four) out 25 jun
SOSANDLOW – La Espiral (Darlyn Vlys Remix) (Science Cult) out 26 jun
Bill Mango – Colonel Fabien (Mango, 2020)
Mechudo – Digitisierte Schleife (Not On Label, 2019)
Big Miz – Opia (Soft Computing, 2020)
Locked Groove – You Can't Walk Through A Buffalo Herd (Locked Groove Records, 2020)
Pile – Worldrecord Holder (Perlon, 1999)
Esoterik – Interiors (Planet E, 1992)
Foremost Poets – Moonraker (Soundmen On Wax, 1998)
The post
HAUS OF BEATS 212
appeared first on
Arrosa
.
Podcast: Play in new window | Download