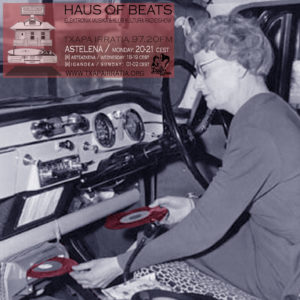 HAUS OF BEATS #78
Corp. Labela eta Johannes Albert-en lan berriarekin hasi dugu gaurkoa, Cropper eta Blah Blah Blah Recordsek jarraitu diote, Lo Recordings eta World Air ere hemen izan dira. Wonderwheel Recordings-ek Nickodemus feat The Illustrious Blacks-en azkena ekarri digute, house doinuak. Subversive eta bere VRV, Mor Elian eta bere label berria Fever AM, eta Adryiano-ren azkena Cestraw-ren eskutik izan da gaurko azken aurrerapena.
Erdiko minutuak Manchester With Love diska benefikoa aurkeztu dugu, bertatik Illum Sphere aukeratu dugu. Grijo, Flori, Mystic Letter K izan dira besteak erdiko tartean.
Atzera begira, Random Factor, Mark Ambrose, Bodo Elsel eta azkenak Thievery Corporation.
Tracklist
Johaness Albert – Zone-7501 (Corp.) out 28 jun

Cropper – Sunlight feat. A.Z. (Blah Blah Blah Records) out 30 jun

World Air – Yard Man (Lo Recordings) out 30 jun

Nickodemus feat. The Illustrious Blacks – Funk That (Wonderwheel Recordings) out 30 jun

Subversive – Domestique (Santiago Salazar Remix) (VRV) out 3 jul

Mor Elian – Sparkle Tube (Fever AM) out 30 jun

Adryiano – Batraf (Cestraw) out 25 aug

Illum Sphere – Ritual (No Drums Version) (Manchester With Love, 2017)

Grijo – Wrong Latitude (Nordic Trax, 2017)

Flori – Alone On Point Lake (Voyage, 2017)

Kettenkarussell – Everything (Giegling, 2017)

Mystic Letter K – See Her Weaving (MLK, 2017)

Random Factor – Broken Mirror (Acid Jesus Remix) (2020 Vision, 1998)

Mark Ambrose – Pilot Funk (Minifunk, 1998)

Bodo Elsel –

Fantasie Mädchen (Playhouse, 1999)

Thievery Corporation – 2001 Spliff Odissey (Eighteenth Street Lounge Music, 1996)
Podcast: Play in new window | Download