HAUS OF BEATS 89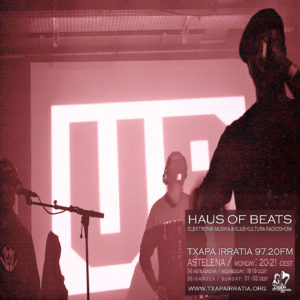 HAUS OF BEATS #89
Outlander eta Cluster Node labela izan dira gaurkoa zabaltzen, Omer Grinker & Pellon eta Seven Villas Music bigarren. Jarraian Quuen Nanny labelak kaleratuko duen Maajo-ren remixen EP-a. Svandans eta Spazio Records, Lauer eta Futureboogie eta programako klasikoak diren Dark Entries-ek beste klasiko baten lanarekin etorri dira, The Hacker. Azken aurrerapena Volruptus-k Trip label errusiarraren bitartez etorri da.
Erdiko minituak betetzen, Sieren, Kmyle, Shield eta In Flagranti.
Atzera Begira atalean, beste behin Soichi Terada, Producers From Another State eta amaitzeko bi klasiko, Boards Of Canada eta Drexciya.
Tracklist:
01. Outlander – Father. Lord and Wizard (Cluster Node) out 1 nov
02. Omer Grinker & Pellon – Personal Notes (Seven Villas Music) out oct 2017
03. Maajo – Musa Paradisa (Dengue Dengue Dengue Remix) (Queen Nanny) out 2017 tbc
04. Svandans – 127 (Spazio Records) out 20 oct
05. Lauer – Tyco (Futureboogie Recordings) out 20 oct
06. The Hacker – Underwater Sequence (Dark Entries) out 16 oct
07. Volruptus – Time Travel (Trip) out 20 oct
08. Sieren – Tailored Mistakes (Apollo Music, 2017)
09. Kmyle – Atlantica (Skryptöm, 2017)
10. Shield, Robytek, Sal P & Dennis Young – Now (Playgroup remix) (Rebirth, 2017)
11. In Flagranti – In The Silver White Box (Gomma, 2017)
12. Soichi Terada – Sumotorishu Ga Coming (Far East Recordings, 1996)
13. Producers From Another State – Play 4 Today (Jovonn Mix) (Goldtone, 1992)
14. Boards Of Canada – Alpha & Omega (Warp, 2001)
15. Drexciya – Fusion Flats (Octave One Mix) (Tresor, 1999)
Podcast: Play in new window | Download