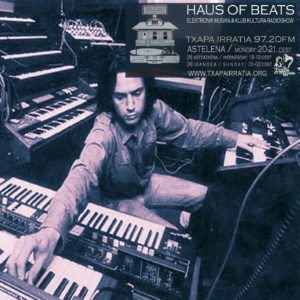 HAUS OF BEATS #94
Berlingo Snuff Crew familiako In The Dark Again labelak ireki du gaur, Night Caller-en azken lanarekin, Ricardo Tobar eta MUSAR labela, MB22 eta Jackie Brown Recordings, My Mate eta Vim & Vigour eta Unknown To The Unknown sublabela dan Dance Trax-ek Oli Furness-en berria ekarri digu. Azken bi aurrerapenak, Lakovos-ek Bliq-entzat sinatu duen lana eta Shawn Rudiman eta Pittsburgh Tracks.
Erdiko minutuetan, asturiar Yunclas artistaren lan berriarekin hasi dugu, errusiar iraultzaren 100. urteurrena ospatzeko sortua. Docta Gee & Salmz, Basic Soul Unit, Perth Driug Legend eta atala ixteko Par Grindvik.
Atzera Begira, Q-Chastic, Aux 88 elektro bikotea eta Khan feat. Julee Cruise gaurkoz azkena.
Tracklist:
Night Caller – Alien City (In The Dark Again) out dec 2017

Ricardo Tobar – La Condamine (Musar) out 2017 tbc

MB22 – Slick Maneuver (Jackie Brown Records) out 27 nov

My Mate – Love For Me (Vim & Vigour) out nov 2017

Oli Furness – Pitch Box (Dj Swagger Remix) (Dance Trax) out 8 dec

Lakovos – Evil Flower (Bliq) out nov 2017

Shawn Rudiman – Electro Days (Pittsburgh Tracks) out 24 nov

Yunclas – La Makhnovtchina (Nen Recs, 2017)

Docta Gee & Salmz – 2009 (Seven Sisters Records, 2017)

Basic Soul Unit – My Heart Skips (Lab-our, 2017)

Perth Drug Legend – Dlugs & Buldies (West End Communication, 2017)

Par Grindvik – Front Row The Game (Stockholm LTD, 2017)

Q-Chastic – Cat 002 (Applied Rhythmic Technology, 1992)

Aux 88 – Interface (Direct Beat, 1995)

Khan feat. Julee Cruise – Say Goodbye (Losoul "She Is Homeless") (Playhouse, 2002)
Podcast: Play in new window | Download